Description
Stella TWO LED Task Lamp — Designed for Macular Degeneration
The Stella TWO LED Task Lamp, where form meets function. Designed with the user in mind, the Stella TWO LED Task Lamp is for the individual who needs more overall light output, greater control over intensity and enhanced tactile feel.  The Stella TWO is the ideal product for individuals who utilize adaptive technologies for low vision, reading, crafting and creating.  The weighted base keeps the lamp steady while the flex arm can rotate the light in nearly every direction.  The tactile raised touch pad is located on the base and allows the user to dim the light to ten (10) different brightness settings, while still offering Tri-Spectrum technology.  The Stella TWO utilizes new state of the art Phillips Lumiled high performance LEDs, offering over 50,000 hours of life and minimal heat with no bulb replacement!
Stella Two LED Task Lamp is extremely even, with minimal glare.  The most important aspect of task lighting for a person with low vision is control.  With the Stella TWO, the user controls the light intensity, direction and color spectrum.  The light output is diffuse with minimal glare.
Stella Two LED Task Lamp — Controlled Low Vision Lighting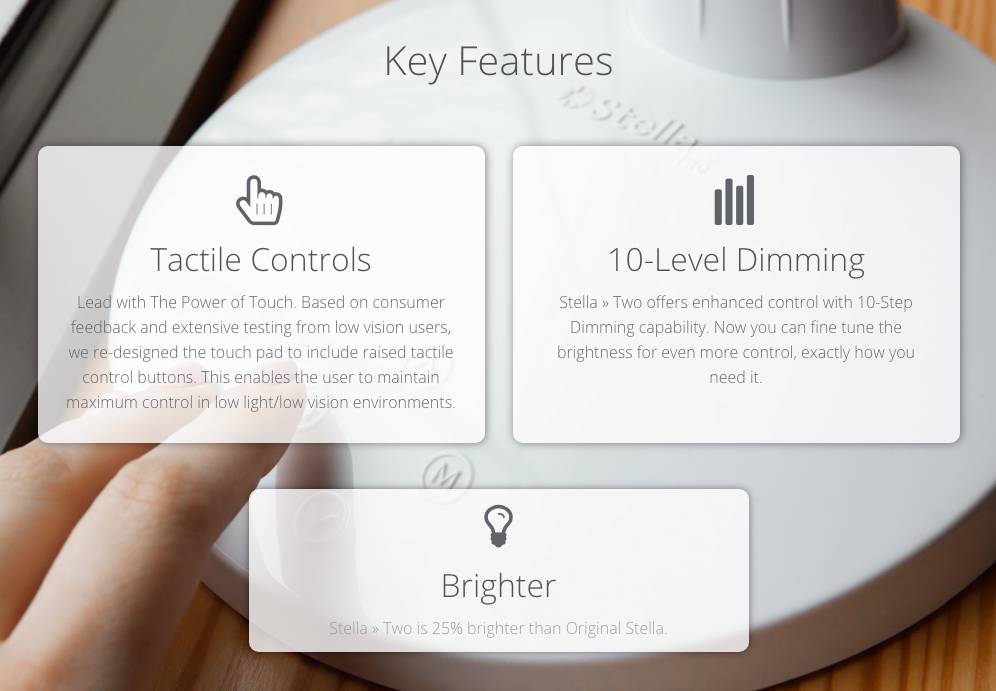 Tri-Spectrum Technology
The Stella TWO utilizes the brightest LEDs in the marketplace: Philips Lumiled High Output LEDs.  Tri-Spectrum Technology gives the user maximum control over color spectrum and intensity.  The user can change between Warm White (2800K), Pure White (4500K), and Cool White (5500K) depending on the desired light for the given activity.
Flex Arm

As with ALL our Stella Lighting products, a segmented steel flexible arm gives the user complete control in positioning the light.  The head of the lamp can be twisted and rotated with the promise that the light will hold its position and get you light exactly where you need it.
Specifications
Product Weight 4 lbs 0oz
Product Dimensions (Folded) 11.5″ x 7.5″ x 11.5″ — (Max) 22.5″ x 7.5″ x 7.5″
Footprint 7.5″
Package Weight 4 lbs 3 oz
Package Dimensions 15″ 9″ 8″
Power Input 110V-240V 50/60Hz
Nominal Wattage 10W
Max Wattage 14W
Warm White 2800K
Natural White 4000K
Cool White 5500K