New Portable Video Magnifier for New Possibilities
Optelec, a leading manufacturer of low vision technology, has just introduced a new portable video magnifier: the Compact 10 HD.
What makes the Compact 10 HD unique?
The Compact 10 HD functions similarly to a desktop video magnifier, yet offers the convenience of being fully portable.  AdaptiVision is among the first to bring this new portable video magnifier directly to consumers.  At our recent product demonstrations — such as at The Carroll Center's Annual Technology Fair — customers have been impressed with the device's features, outlined below.
Instantly powers on
Fits more text on the high-definition 10″ screen
Swing-out arm for viewing items such as round medicine bottles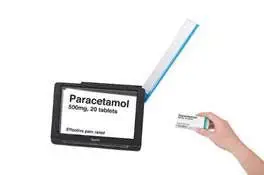 Customizable viewing screen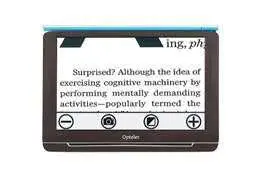 3 high-definition, auto-focus cameras for a variety of viewing angles
Lightweight (only 2.02 lbs)
2 year manufacturer's warranty
A New Portable Video Magnifier that is Convenient — and Affordable
At only $1,295, the Compact 10 HD offers cutting-edge technology at an affordable price point.  And, now through February 14, 2020, AdaptiVision is offering free shipping* on this new portable (just in time for Valentine's Day)!  Give your sweetheart a gift that will keep on giving by making a difference in their daily life.
What about Text-to-Speech?
If you're looking for something a little more, you may be interested in the Compact 10 HD Speech, which includes all the features listed above plus full-page OCR text-to-speech.
Simply place your document at the foot of the device and take a snapshot, and the Compact 10 HD speech will read your document aloud.  You can also listen to smaller pieces of text by pressing the snapshot button while in magnifier mode.  The Compact 10 HD Speech is available from AdaptiVision for $1,595.
Want to learn more?
Order the Compact 10 HD or HD Speech today to take advantage of our free shipping offer (valid through February 14).* Or, to check out this product in the comfort of your own home, contact us for a free, no-obligation demo.
*Free shipping available only to customers located in MA, ME, NH, RI, VT for purchases of the Optelec Compact 10 HD or Compact 10 HD Speech made on our website between 1/16/20-2/14/20.