Ready to take the next step towards regaining your independence?  We offer a complimentary, no-obligation product demonstration at your home or office.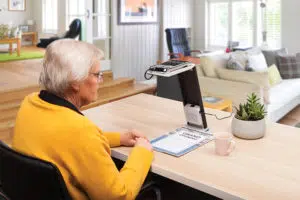 What to Expect
At the demo, we'll review your eye condition and discuss your goals and budget.  With your input, we'll choose which products for you to try and work together to find the best solution for your vision needs.  We'll also assess…
What has caused you the most frustration since experiencing vision loss
Whether you are currently using any other technology such as a computer, smart device, or another type of adaptive technology
Your lighting situation
We guarantee expert, professional, and personalized service catering to your unique situation and needs.
How to Prepare for the Demonstration
Although no preparation is required, some clients find it helpful to take note of their vision challenges and goals prior to the demonstration.  We have created an optional questionnaire for this purpose.  Your responses will help us understand your needs and will, of course, be kept confidential.
How to Get In Touch
To request your demo, simply call (800) 407-6486 or email info@lowvisionsource.com.  Or, if you prefer, just fill out our contact form.  We look forward to serving you!