Description
Zoomax Snow
Considering your first electronic video magnifier purchase?  The Snow is an excellent introduction to the world of portable magnification.  Here's an at-a-glance look at the Top 5 Reasons why we love the Snow:
First and foremost, it is built by Zoomax, one of the top trusted brands in the industry, and adheres to the high-quality standards of all our product offerings.
In a word, simplicity!  There is virtually no learning curve with the Snow.  Take it anywhere and start using it right away with the tactile, intuitive controls.
All key features are built right in to the device, including LED lighting, magnification, contrast, and brightness.
The versatile, lightweight design makes it easy-to-use for both reading and writing, wherever the day may take you.
Compared to other similar devices, you can't beat the price tag.
What can Snow do that a traditional handheld magnifier cannot?  Watch this short video to find out.
Zoomax Snow Key Features
EASY-TO-USE, INTUITIVE CONTROLS
With no learning nor training, you can easily operate the device with three large and intuitive buttons.  Press the Freeze Frame button to capture the image.  Then, zoom in/out or change the viewing mode of the still image smoothly.  This feature is great for viewing objects that are slightly out-of-reach, such as a product on a high shelf at the supermarket.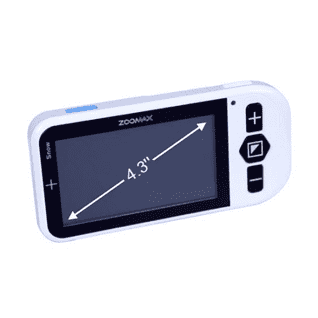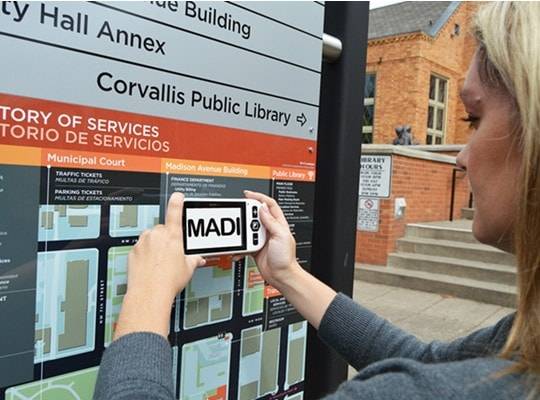 SHARP, CLEAR IMAGE IN ALL SETTINGS
Zoomax magnifiers use advanced image technology and an auto-focus camera to preserve high image quality, even at low magnification and fast movement across the page.  The auto-focus camera is protected from dust and scratches by a glass covering.
UNIQUE ONE-HAND CONTROL
The compact design of the 4.3″ Snow is suitable for people to grab and operate by one hand, keeping the other hand free to handle reading materials or hold a pen for writing.  It also includes a built-in writing stand, which can be folded when not in use.
As lightweight as a mobile phone, the device easily fits in your pocket or purse.  Take it to the office, library, grocery store, or anywhere you want to go.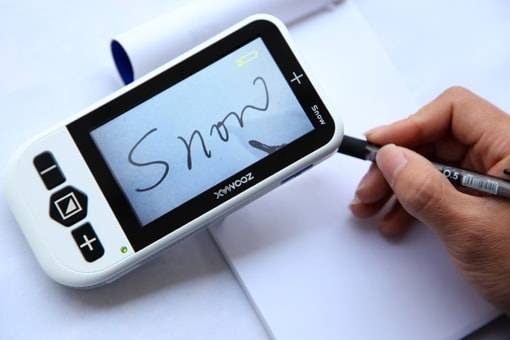 Zoomax Snow Specifications
MAGNIFICATION 2x – 16x
DISPLAY MODES full color + gray-scale + 8 high contrast colors
SCREEN 4.3″ TFT
FOCUS Auto focus
WEIGHT 204 g/7.2 oz
CONTINUOUS USE 3.5 hours
CHARGING TIME 4 hours
POWER SAVING Turn off after 3 minutes non-use