Free Product Demonstration
Ready to take the next step towards regaining your independence?  We offer a complimentary, no-obligation product demonstration at your home or office, in-person or remotely.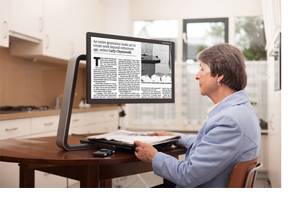 Safety First
Your health, safety and comfort are our top priority.  We offer both in-person and remote product demonstrations, depending on your preference and comfort level.
When it comes to in-person consults, we follow the COVID-19 protocols and best practices of other essential service providers — including the use of personal protective equipment (gloves, masks, face shields, gowns, hand sanitizer) and social distancing — to ensure everyone's safety.
Remote service
In the current environment, we understand that in-person consultations are not always the best or safest option.  That's why we're proud to offer our services remotely via phone or video chat.  In fact, AdaptiVision has already been providing highly effective remote service and support for a number of years. We can help you maintain your independence and thrive during these challenging times through remote product demonstrations, recommendations and sales, as well as remote technical support for your purchase.†
What to Expect
Whether you choose to meet in-person or remotely, you can expect professional, personalized service from AdaptiVision.  At the demo, we'll review your eye condition and discuss your goals and budget.  With your input, we'll choose which products for you to try and work together to find the best solution for your vision needs.  We'll also assess…
What has caused you the most frustration since experiencing vision loss
Whether you are currently using any other technology such as a computer, smart device, or another type of adaptive technology
Your lighting situation
We guarantee expert, professional, and personalized service based on your unique situation and needs.
Appointment Request Form
† See our Satisfaction Guarantee for more details.